Enclosure Cooling for Harsh Environments
Whether in cold, wet, dusty air or extreme heat, Seifert outdoor air conditioners are ideal for harsh environments. With an operating temperature ranging from -40°C to +55°C, an IP56 protection class, integrated condensate evaporation and optional enclosure heater, they are suitable for various applications. Thanks to their filter less design, they are maintenance free and work without any problems even in heavily polluted ambient air. The hermetically sealed cooling circuit ensures high efficiency and safety in operation.
Case study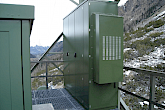 Seifert outdoor unit installed at an altitude of 2000 m in the Pontresina glacier area.

Application: Communication system for the Swiss Border Guard (GWK) in the border area between Switzerland and Italy. The facility is also used for mountain rescue services in the Bernina area. The cooling or heating capacity is switched on or off depending on the weather conditions, in order to keep the sensitive electronic components at a constant enclosure temperature.